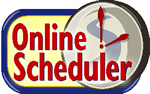 https://www.canyoncreeksoftware.com/scheduler/ut/slc/
Mountain View Elementary
PARENT TEACHER CONFERENCES
January 16, 3:00-7:00 PM & January 17, 12:45-7:00 PM
Starting Thursday, December 20, 2018 and running until midnight Monday, January 14, 2019 parents will have the opportunity to access their teachers' calendars and schedule a convenient conference time.
Remember, the appointments are available on a first-come, first-serve basis. To make an appointment go to the school websitehttp://mountainview.slcschools.org and click on the link there.
If you don't have internet access, you may access the internet via the computers at your local library or here at the school. If you have any questions, please call the school office at 801-974-8315
PASSWORD: MVES
---
Mountain View Elementary
CONFERENCIAS DE PADRES Y MAESTROS
16 de enero, 3:00-7: 00 PM y 17 de enero, 12:45-7: 00 PM
A partir del jueves 20 de diciembre de 2018 y hasta la medianoche del lunes, 14 de enero de 2019, los padres tendrán la oportunidad de acceder a los calendarios de sus maestros y programar un horario conveniente para la conferencia.
Recuerde, las citas están disponibles por orden de llegada. Para hacer una cita, vaya a la página web de la escuelahttp://mountainview.slcschools.org y haga clic en el enlace.
Si no tiene acceso a Internet, puede acceder a Internet a través de las computadoras en su biblioteca local o aquí en la escuela. Si tiene alguna pregunta, por favor llame a la oficina de la escuela al 801-974-8315
CONTRASEÑA: MVES
Click the link below for step by step instructions.